ESG management - ESG Management Components
Amundi firmly believes that the responsibility of an asset manager stretches beyond the purely financial matters. Amundi intends to be a factor of progress and evolution in its environment. Aware of the growing importance of environmental, social and governance (ESG) issues, Amundi chose to gradually integrate them into its analysis process and its investment decisions.
This is accomplished by thoroughly rating companies and States on these extra-financial criteria. Such a rating can also steer businesses toward greater consideration of the Environment, Social issues and Governance. This incentive is complemented by a direct dialogue with businesses and a voting policy for General Meetings.
Early on in the year 2000, Amundi set up a dedicated extra-financial analysis team, now composed of ten analysts.
Analysing businesses
The extra-financial analysis allows the identification of issuers (companies and States) that have the best behaviour in terms of sustainable development issues. Indeed, a global perspective on businesses going beyond the purely financial aspects and analysing all of their risks and opportunities allows a better assessment of their value and their potential long-term performance.
Our extra-financial analysis is:
Three-dimensional: focusing on environmental, social and governance matters,
Sector-related: comparing companies within the same industry,
Scalable: identifying emerging ESG risks and opportunities likely to have repercussions on business performance.
ESG rating for businesses is implemented according to a formalised, transparent and traceable process.
Amundi's frame of reference
The extra-financial analysis team has first defined an ESG frame of reference: 20 general criteria applicable to all sectors and 22 sector-specific criteria. These criteria are based on compliance with laws and guidelines on universal principles promoted by founding declarations from international organisations: the UN, the OECD, the International Labour Organisation...
For institutional mandates, the extra-financial analysts are able to adapt their frame of reference to the requirement of clients wishing to invest on their own values.
The extra-financial analysts in cooperation with financial analysts at Amundi develop a mapping of risks and opportunities, defining the importance of ESG criteria. In other words, the higher the risk associated with a criterion is, the more heavily that criterion will be weighted. Furthermore, this weighting is specific to each economic sector as relevant sustainable development issues differ from one activity to another.
Summary of the analysis process
The extra-financial analysts rate about 2900 issuers (companies and States) on a worldwide coverage. To carry out their research, they rely:
on the work of rating agencies, selected according to the precision of their frame of reference, the relevancy of their analysis and their responsiveness to business news,
on the work of brokerage firms, NGOs and academics,
and most importantly, on very frequent meetings with businesses. These meetings are essential to the validation of information and to the understanding of their ESG issues by the companies involved.
The extra-financial rating of States
The approach chosen by our extra-financial analysts is that of an ESG (Environmental, Social, Governance) rating similar to the one used for businesses, resulting in a rating that ranges from A to G (A being the best grade).
To assess the performance of countries, analysts rely on public data from international agencies (World Bank, World Health Organisation (WHO), international NGOs (Transparency International, specialists in corruption issues) or from specialised agencies like the World Resources Institute (WRI) for environmental issues.
This approach now applies to developed countries of the OECD and rapidly developing countries such as Brazil, Russia, India and China.
Frame of reference and methodology
The frame of reference is divided into 9 criteria (3 for environmental, 4 for social, 2 for governance issues) that relate to the role of government in all three ESG dimensions: for instance "preservation of biodiversity" for Environment, "health of its population" for the Social dimension, and " transparency of its policy " for Governance.
These criteria are then broken down into three types of indicators (Compliance, Actions, Results), thus forming the basis of the methodology called "CARe" :
"Compliance" or commitment by the signing and ratification of charters, treaties, conventions and guidelines: Kyoto Protocol, Convention on Cluster Munitions, etc...
"Actions" or direct and concrete measures taken by the State, implementation of policies for public spending on health or education, etc…
"Results" or indicators on which the state does not intervene directly and that allow to measure the performance of a country, such as CO2/habitant emissions, the amount of waste per capita, infant mortality rate, life expectancy, freedom of the press.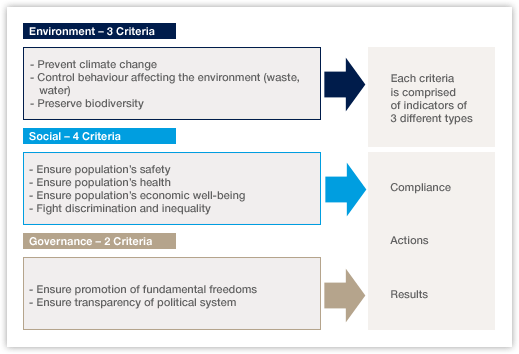 In contact with extra-financial analysts, Amundi's quantitative research:
suggests possible methodological reflection on how to use ESG data from providers;
conducts historical ESG simulations to facilitate the evaluation of issuers and the definition of sector weightings of each criterion;
examines, retrospectively, the behaviour of securities based on their ESG rating to assess if they are a source of performance.
In contact with the managers, Quantitative research:
carries out an audit of existing management processes and suggests possible improvements;
provides model portfolios from various signals within a given risk budget;
establishes risk and performance monitoring from an ESG perspective.
The research team also undertakes the design of models and various quantitative studies: analysis of the impact of ESG ratings on stock prices, SRI / non-SRI comparatives, etc…
Quantitative research measures and analyses the contribution of SRI to performance.
The exercise of voting rights is an essential component of our fiduciary responsibility and of our role as a responsible investor.
In 1996, Amundi established its own voting policy, with a yearly update to incorporate the best practices in corporate governance but also, since 2003, in social and environmental responsibility. Amundi decided to exercise its voting rights for a very large majority of its funds under French and Luxembourg law in order to better fulfil its responsibility as a shareholder.
The objective of shareholder dialogue is twofold:
Increase awareness of sustainability issues among businesses so they can develop a coherent strategy
Help them evolve towards better practices.
Meeting with companies and early-warning device for AGMs
Amundi's engagement policy is driven by two entities:
The team of extra-financial analysts meeting the company as part of the updating of their sector analysis, or to address controversial topics;
The Corporate Governance Unit manages the early-warning device to shareholders' meetings. Early on in its commitment to responsible investment, Amundi also implemented a shareholder dialogue process based on an alert system informing companies of potential negative votes from Amundi at their general meetings. This systematic procedure initially limited to the SBF 120 companies has been expanded since 2009 to a group of leading European companies chosen in collaboration with the extra-financial analysis team, based on different criteria (size, percentage of capital owned, governance...).
Adherence to collective shareholder initiatives
While continuing to develop the formalised system of early warning and dialog on a case by case basis, Amundi has also expanded its shareholder dialogue process through international coalitions of shareholders.
As part of its policy of shareholder dialogue, Amundi supports a number of collective shareholder initiatives, such as the Institutional Investors' Group on Climate Change (IIGCC), the Carbon Disclosure Project (CDP), the CDP Water Disclosure Project, the Forest Footprint Disclosure Project, the Access to Medecine Index, the UN Global Compact engagement on leaders & laggards and the Extractive Industries Transparency Initiative (EITI).
These international initiatives bring together institutional investors and asset management professionals. With what aim? Urging companies to improve their practices and disclosure on fighting climate change, deforestation, preserving water supplies and improving healthcare in developing countries. They also seek to persuade the extractive industry to be more transparent in their relations with the countries where they operate.
Shareholder dialogue allows Amundi to actively participate in improving the practices of companies that it invests in.
In all of its active investments, Amundi enforces strict rules that are the foundation of its responsible policy:
All direct investments in companies involved in the production or trade of anti-personnel mines and cluster munitions are prohibited, in compliance with the Ottawa convention and the Oslo convention;
Issuers which are rated G on the extra-financial rating scale (from A to G, A being the top score) are excluded from the universe of all of Amundi's investment funds. G-rated issuers seriously and repeatedly contravene the principles set out in the UN Global Compact. In such cases, even if a company shows good practices on other criteria, its exclusion is submitted for approval to Amundi's rating committee. The committee meets on a monthly basis. It is chaired by Amundi's Head of Steering and Control functions. The heads of Amundi's main departments are permanent members.
* active management: except index-tracking UCITS and except ETFs
Human Rights
Principle 1: Businesses should support and respect the protection of internationally proclaimed human rights; and
Principle 2: Make sure that they are not complicit in human rights abuses.
Labour
Principle 3: Businesses should uphold the freedom of association and the effective recognition of the right to collective bargaining;
Principle 4: The elimination of all forms of forced and compulsory labour;
Principle 5: The effective abolition of child labour; and
Principle 6: The elimination of discrimination in respect of employment and occupation.
Environment
Principle 7: Businesses should support a precautionary approach to environmental challenges;
Principle 8: Undertake initiatives to promote greater environmental responsibility; and
Principle 9: Encourage the development and diffusion of environmentally friendly technologies.
Anti-Corruption
Principle 10: Businesses should work against corruption in all its forms, including extortion and bribery