Investment Ideas

A Flexible Core Equity Strategy Pursuing Sustainable Growth
A Flexible Core Equity Strategy Pursuing Sustainable Growth
Pioneer Fund
Y-Share: PYODX | A-Share: PIODX
C-Share: PCODX | R-Share: PIORX
The Fund flexibly allocates to both value and growth companies via a concentrated, nimble portfolio, designed to help investors navigate transitions between equity styles. The Fund's portfolio managers integrate ESG analysis into their investment process and evaluate ESG-related risks.
Overall Y Share Morningstar RatingTM

(out of 1,231 funds in the Large Blend Category)

Morningstar Sustainability RatingsTM

(out of 1,387 funds in the Large Blend Category
based on 100% of AUM)
Morningstar Proprietary Risk-Adjusted Ratings Performance as of 8/31/2022
Morningstar Sustainability Ratings as of 7/31/2022
For more information about Morningstar Star RatingsTM, including methodology, visit our Strength Across the Board page.
For more information about Morningstar Sustainability RatingsTM, please visit our Sustainability Ratings page.
Doing Good While Seeking to do Well
Since the Fund's inception in 1928, we have invested in quality, sustainable businesses - from both a competitive and ESG perspective - that provide useful goods and services to society.
Socially Responsible Investing*

For over 60 years, the portfolio managers have applied socially responsible investment screens to avoid tobacco, alcohol and gambling stocks. Companies that seek to achieve favorable outcomes for diverse stakeholders - beyond solely focusing on the bottom line - provide investors with the opportunity for enduring returns through a range of market environments.

Managing Risk

Fund managers focus on quality value and growth companies that offer a strong business model, sustainable competitive advantages and shareholder orientation. By targeting equities at prices below intrinsic value, we seek to limit downside risk. This helps us pursue the best opportunities for risk-adjusted returns over time.

Qualitative Research

The Fund seeks to include securities which offer attractive risk/reward ratio through analysis of industry structure, business outlook and financials. Focuses include profitability and growth, sustainable competitive advantages, and shareholder-friendly activity.
*Effective July 1, 2018 these guidelines were formally incorporated into the Fund's prospectus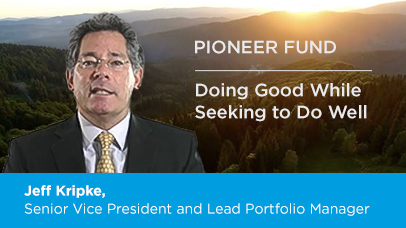 Video | March 2022
Pioneer Fund: Doing Good While Seeking to Do Well
Pioneer Fund's integrated approach to ESG investing looks for companies that are competitively strong, financially sound, and socially and environmentally responsible. Jeff Kripke explains how this Fund is designed to pursue above average returns over time with reduced risk.