Investment Ideas

A Tax-Exempt Municipal Bond Strategy for a Time of Transition
A Tax-Exempt Municipal Bond Strategy for a Time of Transition
Pioneer AMT-Free Municipal Fund
The Fund seeks as high a level of current interest income exempt from federal income tax as is consistent with the relative stability of capital.
Using a total return approach, the Fund invests primarily in investment grade municipal bonds and will normally not invest in securities, the interest on which is subject to the federal alternative minimum tax (AMT).
An Experienced Approach to Seeking Tax-Free Income
Markets, the economy, and potentially tax policy, are all in transition - a backdrop that requires a nimble portfolio run by some of the industry's most experienced managers.
Diversified* in Essential Sectors

The Fund invests in a nationally diverse group of investment grade municipal bonds focused on sectors essential to functioning of America, including health care, power, energy and public/private education.

Experienced Management

Portfolio managers David Eurkus and Jonathan Chirunga have over 70 years of combined experience - crucial for this period of transition.

Active and Nimble approach

The Fund is uniquely positioned from a resource and investment flexibility perspective. The municipal team benefits from the significant resources and views of our sizeable US Fixed Income Division. Compared to many of our larger peers, managing a relatively smaller, more flexible pool of municipal assets across multiple strategies allows us to be more nimble.
* Diversification does not assure a profit or protect against loss.
Latest On-Demand Update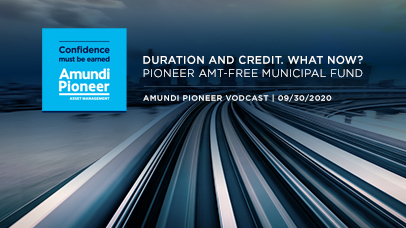 Vodcast | September 30, 2020
Duration and Credit. What Now?
Pioneer AMT-Free Municipal Fund
David Eurkus addresses two key topics in the municipal market today – interest rates and defaults – and how Pioneer AMT-Free Municipal Fund is positioned for this environment.
Overall Y Share Morningstar RatingTM

(out of 139 funds in the Muni National Long Category Category)
Morningstar Proprietary Risk-Adjusted Ratings Performance as of 2/28/2021
For more information about Morningstar Star RatingsTM including methodology, visit our Strength Across the Board page.
Average Annual Total Returns as of 12/31/20
1-Year

3-Year

5-Year

10-Year

Since Inception
(9/30/1996)

Pioneer AMT-Free Municipal Fund
(Y Share)

6.88%

5.63%

4.66%

6.07%

5.41%

BBG Barclays US Municipal Bond Index (Benchmark)

5.21%

4.64%

3.91%

4.63%

5.03%

MSTAR Muni National Long Cat. Avg.

5.21%

4.55%

3.84%

4.68%

4.41%
Y Share Yields as of 12/31/20
With Waiver

Without Waiver

30-day SEC Yield

1.17%

1.10%
The 30-day SEC Yield is based on the hypothetical annualized earnings power (investment income only) of the Fund's portfolio during the period indicated.
Fund Facts
Tickers, CUSIPs

Class A: PBMFX, A72387W705
Class C: MNBCX, C72387W887
Class Y: PBYMX, Y72387W747

Investment Objective

As high a level of current interest income exempt from federal income tax as is consistent with the relative stability of capital.

Inception Date

9/30/1996

Benchmark

Bloomberg Barclays US Municipal Bond Index
Portfolio Management Team
The Fund benefits from a seasoned and collaborative investment team. Portfolios managers David Eurkus and Jonathan Chirunga have both managed municipal bonds through a variety of market cycles and changing economic conditions, allowing them to develop an in-depth understanding of the municipal bond universe and its market dynamics.
David Eurkus
Managing Director
Director of Municipals, US
Lead Portfolio Manager

Jonathan Chirunga
Managing Director
Deputy Director of Municipals
Portfolio Manager
A Word About Risk:
The market prices of securities may go up or down, sometimes rapidly or unpredictably, due to general market conditions, such as real or perceived adverse economic, political, or regulatory conditions, recessions, inflation, changes in interest or currency rates, lack of liquidity in the bond markets, the spread of infectious illness or other public health issues or adverse investor sentiment. When interest rates rise, the prices of fixed income securities in the Fund will generally fall. Conversely, when interest rates fall, the prices of fixed income securities in the Fund will generally rise. Investments in the Fund are subject to possible loss due to the financial failure of issuers of underlying securities and their inability to meet their debt obligations. At times, the Fund's investments may represent industries or industry sectors that are interrelated or have common risks, making it more susceptible to any economic, political, or regulatory developments or other risks affecting those industries and sectors. The value of municipal securities can be adversely affected by changes in financial condition of municipal issuers, lower revenues, and regulatory and political developments. A portion of income may be subject to local, state, federal and/or alternative minimum tax. Capital gains, if any, are subject to a capital gains tax. These risks may increase share price volatility.
Individuals are encouraged to seek advice from their financial, legal, tax and other appropriate professionals before making any investment or financial decisions or purchasing any financial, securities or investment-related product or service, including any product or service described in these materials. Amundi US does not provide investment advice or investment recommendations.
Before investing, consider the product's investment objectives, risks, charges and expenses. Contact your financial professional or Amundi US for a prospectus or summary prospectus containing this information. Read it carefully. To obtain a free prospectus or summary prospectus and for information on any Pioneer fund, please download it from our literature section.
Securities offered through Amundi Distributor US, Inc.
(Formerly Amundi Pioneer Distributor, Inc.)
60 State Street, Boston, MA 02109
Underwriter of Pioneer mutual funds, Member SIPC.
Not FDIC insured | May lose value | No bank guarantee