Investment Ideas

An Active, Risk-Managed Approach to Core Fixed Income
An Active, Risk-Managed Approach to Core Fixed Income
Pioneer Bond Fund
Y-Share: PICYX | A-Share: PIOBX
C-Share: PCYBX | K-Share: PBFKX
Pioneer Bond Fund is a multi-sector bond fund that invests across a broad range of US dollar-denominated fixed income sectors, including US investment grade core, up to 20% in non-investment grade securities and up to 15% in non-US securities. The Fund's benchmark is the Bloomberg Barclays US Aggregate Bond Index, a broad measure of the US bond market.
An Active, Risk-Managed Approach to Core Fixed Income
Pioneer Bond Fund seeks current income and strives to deliver competitive returns compared to a traditional higher-quality, US core fixed income portfolio, while limiting additional volatility.
Diversified Sources of Risk / Return

We seek to diversify1 across a broad range of fixed income asset classes and exposure to non-core sectors with lower correlations. We believe this can contribute to higher returns, lower volatility and reduced downside risk versus its peers over time.

Integrated (Non-Siloed) Portfolio Management

In addition to assessing risk at the overall portfolio level, as credit managers we also seek to manage risk at the sector, industry and issuer/security levels. These decisions are aligned with the Fund's objectives and risk tolerances.

Transparency of Portfolio

The Fund strives to adds value by investing primarily in cash bonds. The focus on cash bond markets and low historical derivative usage may appeal to investors who seek greater transparency in their investments.
Latest On-Demand Update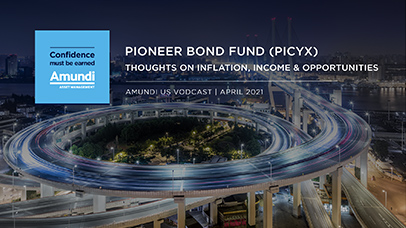 Vodcast | April 2021
Pioneer Bond Fund: Thoughts on Inflation, Income & Opportunities
Brad Komenda discusses the possible danger inflation poses to a bond fund, his outlook for income and allocation opportunities for the Fund.
Distinguishing Features
Seeking Outperformance through Dynamic Allocation
Seeking to benefit from its value-driven, diversified approach, Pioneer Bond Fund strives to deliver outperformance of its benchmark and peers over time. The Fund's flexible approach to asset allocation can help pursue strong performance in different economic, interest rate and credit environments.
Explore our active sector allocations among various fixed income asset classes.