HKD: sailing through the turbulence
HKD: sailing through the turbulence
Tuesday 30 June 2020
Cross Asset
Read the Complete July/August Cross Asset Investment Strategy
Claire Huang
Macro-Strategist, Emerging Markets

Joevin Teo
Head of Asian Fixed Income
Caught in the struggle between Beijing and Washington, can Hong Kong pull through the hardship without special trade status? Is Trump's announcement symbolic or destructive for the territory? Will the Hong Kong dollar peg fall apart? We review these questions one by one in this analysis.
Hong Kong to hold its shape without special trade status
As a major global financial hub, and one of the most open economies in the world, Hong Kong is consistently ranked top in terms of economic competitiveness and institutional soundness.However, the territory is not immune to the struggle between Beijing and Washington. In response to the introduction of National Security Law in Hong Kong at the end of May, the Trump administration announced plans to eliminate US policy exemptions for Hong Kong. After examining the options one by one, we found that the revocation of special status will leave Hong Kong in a similar position as before, unless the US opts for the "nuclear option" – isolating Hong Kong from the Wall Street. Removing Hong Kong's trade preferential policy will result in a tariff hike that has little economic consequence, since Hong Kong's domestic exports to the US only account for 0.1% of GDP. The remaining majority are re-exports, which are subject to tariffs for countries of origins.Separately, given Hong Kong's small manufacturing base (1% of GDP) and the absence of participation in the regional production chain, adding Hong Kong to the US export control list will mostly affect R&D in the region but leaves the supply chain intact. Although the shock in the near term appears minimal, these new barriers could be costly for Hong Kong in the longer run in terms of its own technological advancement.
Markets are relieved for now, absent indications from the US to deprive Hong Kong of its financial access to the western world. To the US, this option could bring more harm than good. Today, Hong Kong not only contributes the most to the US trade surplus ($26bn in 2019), but also maintains net external claims with the US ($94bn at end-2019, or 0.5% of US GDP). In 2019, US firms had 278 regional headquarters and over 1000 regional/local offices in Hong Kong.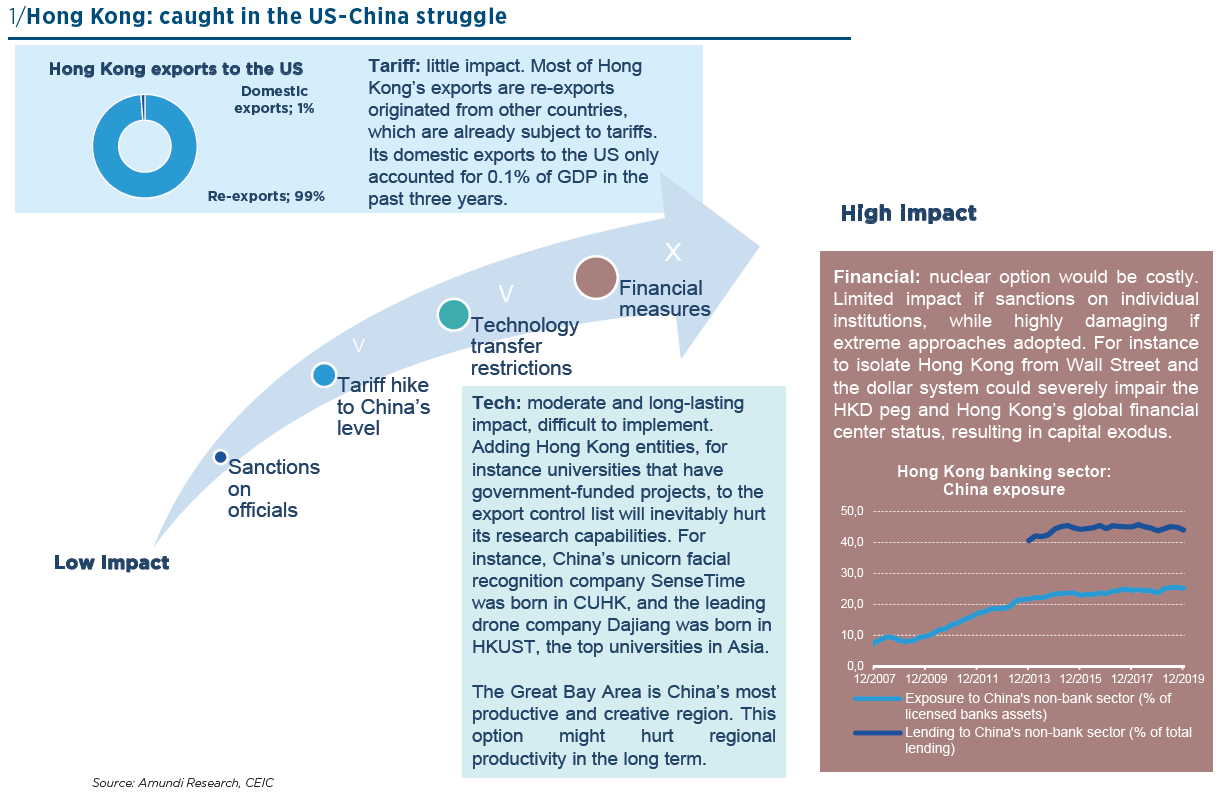 USD/HKD peg is here to stay
In light of elevated uncertainties, it is fair to ask whether Hong Kong can maintain its Linked Exchange Rate System (LERS) and continue to keep the USD/HKD in the targeted range (7.75-7.85). We believe both Hong Kong and mainland China authorities are willing and able to defend the LERS. It is also worth noting that Hong Kong has the autonomy to design its monetary regime, including exchange rate policy.
The latest policy remarks are indeed reassuring. HKSAR Government and HKMA have responded with strong messages reaffirming the free flow of capital, and free convertibility of the HKD will continue to be safeguarded by Article 112 of the Basic Law. Furthermore, PBoC stressed on 4th June it will unswervingly support the development of Hong Kong's financial markets, and maintain its economic and financial stability and prosperity. On 8th June, Beijing said it would enhance its supports to Hong Kong after the introduction of National Security Law. It will solidify Hong Kong's international financial center status, and continues to position it as a super-agent between mainland China and the rest of the world.
Meanwhile, the HKMA, which acquired a long record of capable financial management, has ample ammunition to defend the currency. It holds $440billion in foreign currency reserves – double the size of the entire monetary base – and covers 30-40 days of retained merchandise imports. Hong Kong's strong external positions should help as well. The territory maintains a gigantic net portfolio investment position to the rest of the world. During the turbulent times, repatriations of external investment assets could help mitigate outflow pressures from non-resident portfolio investments, even before the central bank needs to dig into its reserve savings.
HKD's strength supported by equity inflows
While there was a sharp movement in the spot USD/HKD after the NPC announcement, the USD/HKD has since traded near the strong end of the band. The abundant pipeline of IPOs has driven up demand for HKD, leading to a widening of the HIBOR-LIBOR spread to its widest in 20 years amid Fed's rate cuts. The wide interest rate differential in turn has been supporting HKD strength. A couple of factors will continue to support the HKD's strength. With Hong Kong relaxing its dual-listing rules, more Chinese companies listed in the US will choose to dual-list at HKEX, which was the case for JD.com and NetEase. The dividend calendar of Chinese companies and strong southbound flows will bring extra inflows in the near term. Alternative capital flow barometers, including housing prices and deposit growth, point to subdued outflow pressures so far. Despite the economic downturn in 2019-20, Hong Kong's deposit managed to eke out positive growth, led by foreign currency deposit expansion. Housing prices were slightly higher than a year ago, which was surprisingly resilient given the long-lasting social unrest.
A matter of confidence
We cannot rule out the risk that a significant escalation in US-China tensions will result in further retaliatory measures imposed by both sides. Although it is very unlikely for the US to pursue financial measures on Hong Kong, it is not completely impossible. The options range from excluding Hong Kong's banking sector from SWIFT to the withdrawal from bilateral regulatory agreements. For instance, the enforcement agreements between HK SFC and US SEC, and HKMA's position in the oversight committee in Fed-regulated CLS to name a few. In this risk scenario, capital exodus and a higher USDHKD may be inevitable. That said, HKMA may have just enough bullets to cover a sharp one-way sell-off, given the city's gross portfolio investment liabilities stood at 1.3x of its FX reserves. This is not a base case scenario, but any future expectations of Fed rate hikes could result in a narrower US-HK short end spread, potentially leading to HKD weakness. In such a situation, the HKMA would be able to drain liquidity in order to raise HKD interest rates; the structural viability of the peg would not be in question. In the longer term, Hong Kong's competitiveness will be supported by high regional growth, and its position as a gateway to mainland China. These factors should ease some concerns of political uncertainties stemming from US-China relations.
Important Information
The MSCI information may only be used for your internal use, may not be reproduced or redisseminated in any form and may not be used as a basis for or a component of any financial instruments or products or indices. None of the MSCI information is intended to constitute investment advice or a recommendation to make (or refrain from making) any kind of investment decision and may not be relied on as such. Historical data and analysis should not be taken as an indication or guarantee of any future performance analysis, forecast or prediction. The MSCI information is provided on an "as is" basis and the user of this information assumes the entire risk of any use made of this information. MSCI, each of its affiliates and each other person involved in or related to compiling, computing or creating any MSCI information (collectively, the "MSCI Parties") expressly disclaims all warranties (including, without limitation, any warranties of originality, accuracy, completeness, timeliness, non-infringement, merchantability and fitness for a particular purpose) with respect to this information. Without limiting any of the foregoing, in no event shall any MSCI Party have any liability for any direct, indirect, special, incidental, punitive, consequential (including, without limitation, lost profits) or any other damages. (www.mscibarra.com). Diversification does not guarantee a profit or protect against a loss. It is not possible to invest directly in an index. Unless otherwise stated, all information contained in this document is from Amundi and Amundi Pioneer Asset Management and is as of 11 June 2020. The views expressed regarding market and economic trends are those of the author and not necessarily Amundi Asset Management, and are subject to change at any time based on market and other conditions. These views should not be relied upon as investment advice, as securities recommendations, or as an indication of trading on behalf of any Amundi. There is no guarantee that market forecass discussed will be realized or that these trends will continue. These views are subject to change at any time based on market and other conditions and there can be no assurances that countries, markets or sectors will perform as expected. Investments involve certain risks, including political and currency risks. Investment return and principal value may go down as well as up and could result in the loss of all capital invested. This material does not constitute an offer to buy or a solicitation to sell any units of any investment fund or any services. Performance shown is past performance, which is no guarantee of future results. Current performance may be lower or higher than the performance data quoted
Before investing, consider the product's investment objectives, risks, charges and expenses. Contact your financial professional or Amundi US for a prospectus or summary prospectus containing this information. Read it carefully. To obtain a free prospectus or summary prospectus and for information on any Pioneer fund, please download it from our literature section.
Securities offered through Amundi Distributor US, Inc.
(Formerly Amundi Pioneer Distributor, Inc.)
60 State Street, Boston, MA 02109
Underwriter of Pioneer mutual funds, Member SIPC.
Not FDIC insured | May lose value | No bank guarantee