Financial Professionals

Charting Our Focus
Charting our Focus
We Believe Investors Should Remain Positioned for Higher Inflation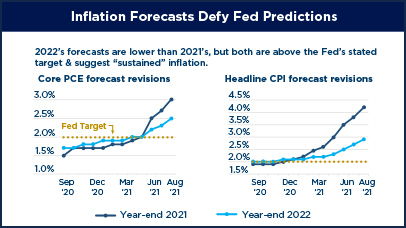 September 2021 | We believe inflation may continue to increase, driven by excess fiscal stimulus and the bounce-back in consumer demand. Key sectors across the economy including transportation, energy and commodities have experienced significant price increases in recent months, exerting pressure on inflation.
Source: Bloomberg monthly survey of economists as of 8/31/21. Economists forecasted both 2021 and 2022 year-end inflation rates each month. Core PCE = Personal Consumption Expenditures less food and energy. Headline CPI = Consumer Price Index all items.
Valuation Gap Between Growth and Value has Reached Extreme Levels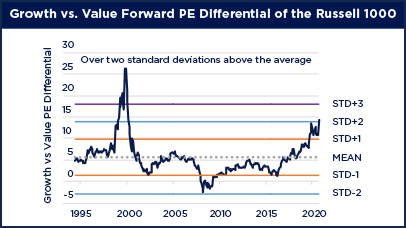 August 2021 | We believe the risk-reward profile in value is much more favorable than in growth for one simple reason: valuation. This month, we compare the premium enjoyed by growth stocks (Russell 1000 Growth Index) to value stocks (Russell 1000 Value Index) on a forward, price-to-earnings basis.
Source: Bloomberg. Data as of 6/30/21. Past performance is no guarantee of future results. Click "Explore the Chart" above for more information about terms and indices.
Before investing, consider the product's investment objectives, risks, charges and expenses. Contact your financial professional or Amundi US for a prospectus or summary prospectus containing this information. Read it carefully. To obtain a free prospectus or summary prospectus and for information on any Pioneer fund, please download it from our literature section.
Securities offered through Amundi Distributor US, Inc.
(Formerly Amundi Pioneer Distributor, Inc.)
60 State Street, Boston, MA 02109
Underwriter of Pioneer mutual funds, Member SIPC.
Not FDIC insured | May lose value | No bank guarantee